Introduction
Our task is to create a 2D or 3D fully immersive game to present to the class and our teachers. We have no given theme or style however we have to make sure we can link it to flow theory by making the game so interesting that we become in a state of flow when we play it. This is a completely independent task but we can still ask for help from the our classmates and our teachers, I can even use surveys and questionnaires to help towards my feedback and research.
My Favourite Games
Fallout 4 – When I started this Games Design course I had played games similar to Fallout such as Skyrim (which was also made by Bethesda) however I had never played the Fallout game series. I got an Xbox One for Christmas and because I wanted a 1tb Xbox I got Fallout 4 along with it. Now it is one of my favourite games. Even though I played the 4th Fallout first I still even tried the other games. I am a big fan of RPG's because they are so immersive and even when you finish the game you still have side quests and collectibles to keep you occupied. Also a key feature to Fallout which I really liked was the chance to interactive with your companion. Within Fallout 4 you can choose a companion, some can be good than others and some can just be so annoying. I really like Codworth, Cait, Dogmeat and Nick.
Another thing about Fallout 4 that I love is the DLC's (Downloadable Content). Even though I am making a lot of progress on the game I have still not yet finished I also have the chance to buy extra add-ons that extend the game so I have yet even more to do. 2 DLC's feature extra maps that are almost as big as the main story map.
Image Source: youtube.com/watch?v=HF8ejbj-ncw
Image Source:
http://www.gameinformer.com/games/fallout_4/b/xboxone/archive/2015/11/09/a-familiar-wasteland.aspx
Bioshock Collection – Again I was introduced to the Bioshock games at University and I'm so glad I was as the storyline to them is astounding. I was so used to third person games that when I played Bioshock it introduced me properly to first person gaming; now I play a lot more in first person when given the choice. Bioshock is playable online however with it being an old game not many people are on the servers. I really enjoyed Bioshock Infinite as it explained a lot of the story even linking back to the first and second Bioshock. I currently do not known if there is going to be another Bioshock but hopefully they make a game in the similar sort of style. The use of powers (plasmids) and choice in weaponry is amazing as well as having great NPC's that are incredibly involved with the plot.
Image Source: http://store.steampowered.com/app/7670/
Image Source: https://vgboundaries3.wordpress.com/2015/04/05/roles-of-female-characters-as-examined-in-bioshock/
Abe Game Series (Odyssey, Exodus and New 'n' Tasty) – An old game that has been remastered that is an absolute classic. Unfortunately the game is not as recognised as games such as Spyro or Crash Bandicoot, however when coming across fans of Abe I become so happy as it is a game with so much to talk about. I prefer the second game (Exodus) as the developers clearly learnt from their mistakes. The first game is great but there are some slight changes in the second game that just make life easier; for example you can speak to more than one muddoken at once and you can possess more enemies and even possess your own farts and use them as an explosive weapon (as strange as that sounds). The character is fun-loving and so comical, you can even get to know him on the start up menu so that you can get to know the controls more.
Image Source: https://steamcommunity.com/sharedfiles/filedetails/?id=241339845
Image Source: youtube.com/watch?v=dnr2TGDCDCs
Gex: Enter the Gecko  – Again this game is an unrecognizable game to most yet I still loved it as a child. Playing this on the PlayStation 1 was amazing and with such a character as Gex you can't get bored. Gex is such a funny character with many catchphrases (look at http://gex.wikia.com/wiki/List_of_quotes_in_Gex:_Enter_the_Gecko for catchphrase examples). The game features many levels displayed as television screens and is very interactive also some levels feature different costumes that Gex can change into, the first costume being a bunny rabbit.
http://gamefabrique.com/screenshots/gex-64-enter-the-gecko/
Batman Arkham Series – I have always been a Batman fan and was so happy when this game series came out. Batman Arkham Knight is supposedly the last Arkham Game, however they are bringing out the games remastered. I am a big fan of the game because I love the character Harley Quinn, she is such a fun loving and clumsy character that has many costumes throughout films, television shows and games. Below is just a few of her outfits: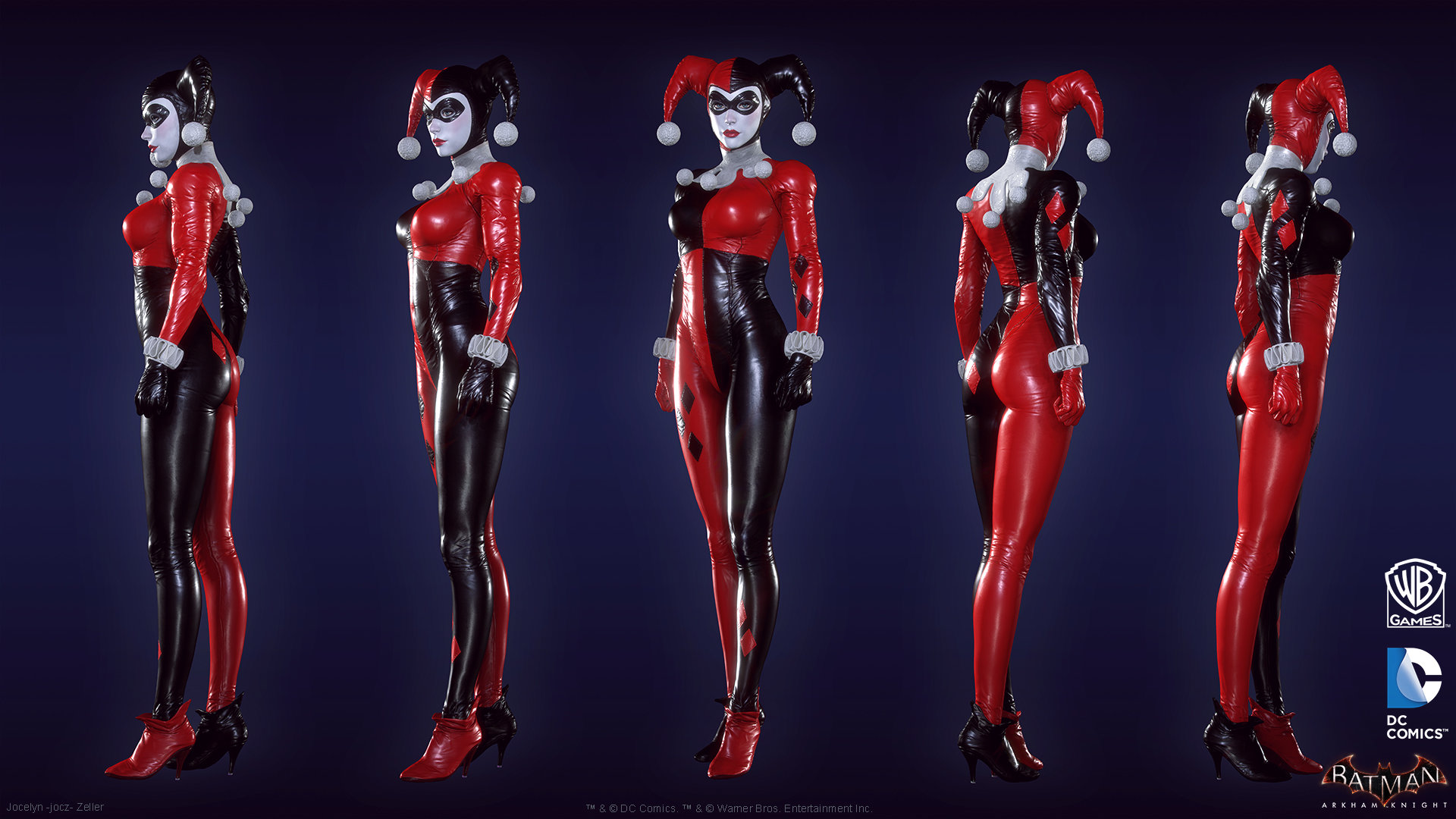 Classic Harley Image Source: http://arkhamcity.wikia.com/wiki/Harley_Quinn
Arkham Asylum Harley Image Source: http://www.arkhamverse.com/news/2014/08/batman-arkham-asylum-is-5-years-old-today/harley-quinn-arkham-asylum/
Arkham City Harley Quinn – Image Source: https://www.pinterest.com/pin/469852173593983388/
Arkham Knight Harley Quinn – https://www.pinterest.com/pin/330662797623659241/
So as you can see there are many outfits, that is not even all of them. I like that about a character because even some of her old outfits have been an easter egg within the games. Having a character with a various amount of costumes gives the player a bit more interest in that character, especially when you can  choose the costume.
Tomb Raider Game Series – Everyone knows of the Tomb Raider games and there has been many released, the games are even being released now and they are incredibly realistic. I really enjoy Tomb Raider: The Last Revelation as you play as Lara Croft when she is younger and discover so much about her; I think that character development is important especially when it is the same character throughout the whole game series. However in Tomb Raider: Angel of Darkness you can play as a male character known as Kurtis Trent and the plot is quite interesting.
Games I Want to Play 
Portal – I have always thought the challenge of this game will be too high. It looks so complex, however so fascinating. I love the puzzle aspect, it's great to have such a puzzling game that is more fun than educational, also everything within the game is so clean and simple looking yet the game itself  is incredibly complex.
Image Source: youtube.com/watch?v=CLUy9DH7V2M
Gears of War – The storyline for this game is supposed to be really good and the characters are very interactive. Many people that I have spoke to who have played this game said that the characters get along like a family and when one is lost it is quite upsetting. Also the environments are very busy and look extraordinary.
Image Source: http://www.pcgamer.com/gears-of-war-4-system-requirements-4k-gameplay-footage-revealed/
Dark Souls – I really like dark games like this purely for the character appearances/creation, the environments and the challenge; Dark Souls definitely has the challenge. One of the reasons I have never played it is because it features permadeath (permanent death) meaning once you die you start right from the beginning; although you have the option to change it the game still sounds like to much of challenge to me but I need to at least try the game.
Image Source: http://www.gamespot.com/articles/dark-souls-3-interview-it-wouldnt-be-right-to-cont/1100-6432425/
Borderlands – I don't really known much about this game, however I know it is quite well known and popular. The main reason I want to try this game is because the art style looks so fascinating as it is very comic like and cartoony. Also the characters look really interesting.
Image Source: http://www.gamehackstudios.com/borderlands-free-download-pc-full-version/
Watchdogs – I have never got around to play this game but I saw a method of advertising that they used featuring gamification.
Image Source: https://www.pinterest.com/redskyzone/watchdogs/
Video Source: Advert.ge
Game Ideas and Influences
Mr. Runner – The first game style that came to mind was a 2D side scroller. My logic behind this was to believe that it would be the easiest game style to blueprint within Unreal Engine, however the aim of making our games is to challenge ourselves so I am also taking into consideration other game styles as well as art styles. I looked at the Mr Runner game because it is quite an addictive game. The player has control of the character yet you can't actually stop the character you either just slow down or speed up therefore the game still has a bit of control other the player.
Image Source: https://itunes.apple.com/us/app/mr.runner/id389434248?mt=8
Image Source: http://sopgaming.blogspot.co.uk/2010/10/app-o-mornin-mr-runner-review.html
Super Mario Bros. Nintendo Wii Remake –I loved the original Mario games and I was happy to find the made this one as it was similar to the originals but it had better graphics and it was 2.5D. I like games like this for their unique use of parallax scrolling, character design and level design. I also play the Abe Oddworld which is a similar style of game which was also remade. If I was to make a game like this I would try my best with the storyline as some of these games can turn into addictive platformers in which the player forgets about the main story and just tries to accomplish the levels and get to the end of the game.
Image Source:
http://www.emuparadise.me/Nintendo_DS_ROMs/New_Super_Mario_Bros._(U)(Psyfer)/46505
Crash Bandicoot Game Series – The first Crash Bandicoot game was released in 1996 and as soon as I was old enough to hold the controller it was along one of the first games I  played. Most of the game series are level based which includes one main hub area (in which the player starts the game, interacts with the main storyline and returns to after finishing each level), Level areas (themed e.g. snow, jungle, aztec, futuristic etc.) and within those level areas are individual levels. I think the game is quite unique as in some games you have the chance to play as other players. In Crash Bandicoot Warped and Wrath of Cortex you could play as Crash' sister Coco even with it being level based and a platformer. When playing the spin-off racing games you had more of a choice in characters even including the enemies. Character selection is good as it gives you a sense of ownership and it also allows you to get closer to the characters and learn more about them. Also Crash Bandicoot has a companion called Aku Aku who plays the role of your life counter. When you collect 3 Aku Aku boxes you have a temporary shield, whereas when you get hit by enemies too much you lose your companion and then lose the level and are returned to your last checkpoint.
Image Source: http://fnaffangamer12.deviantart.com/art/Crash-Bandicoot-Main-Characters-602999009
Spyro the Dragon – Like Crash Bandicoot I have played this game since I was little, however this game has many hub areas. Once enough Gems have been collected an NPC will allow you to travel to either a boss battle or new hub area which will contain more unique levels. Both these games have a lot in common such as having a companion, collecting items and defeating enemies as well as they layout of the game. Also the characters are so iconic as their games are still being made to this day. Character design is a big feature and in these games there are lots of friends, enemies, companions and playable characters.
Image Source: http://www.vgamerz.com/the-greatest-video-game-characters/
Kingdom Hearts 1 & 2 – I like these games however I did get out of the state of flow a lot as the levels of difficulty varied. But the reason I gain influence from them is due to the customising and companions. Throughout the game there are many levels that you travel to using a map, these levels are either anime/final fantasy based or Disney (as Square Enix joined up with Disney to create this game) when in a level you play as Sora or Roxas and you can have 2 followers/companions at a time to help you fight. Most of the time you have Donal Duck and Goofy with you but when you enter a level you can sometimes swap out Donald or Goofy with the themed character, for example if the player was to travel to the Beauty and the Beast world you would be able to have the beast fight by your side.
You can't actually customise the look of your character but you can choose your weapons, abilities and skills. You can even choose these for your companions. I think that is great as you can level them up and make them better. I like choosing my own weapon as they look different and they all have different powers and abilities. However even though the player has no control of the costume design, when entering certain levels the characters may change (as seen below).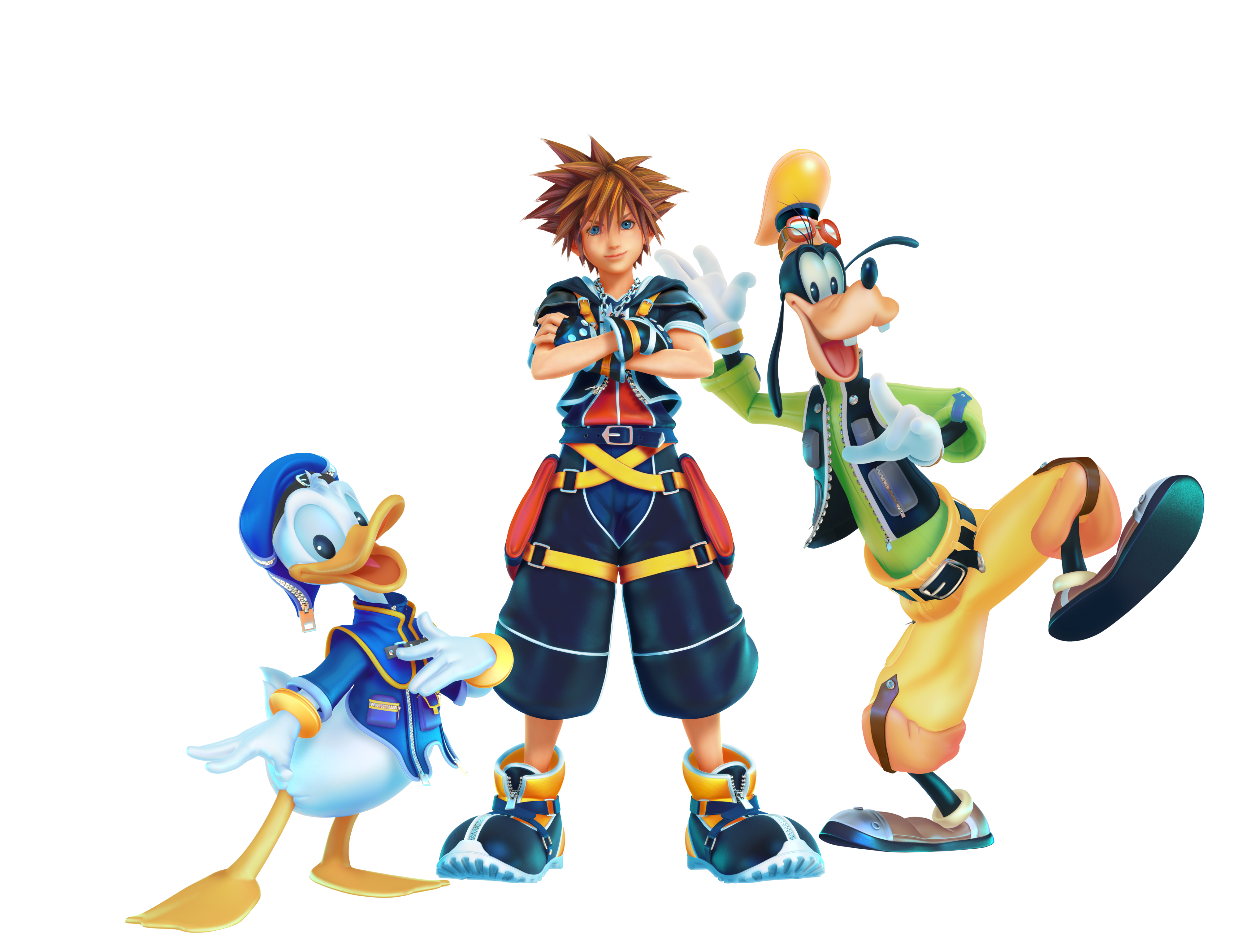 Donald, Sora and Goofy Classic Outifts.
Image Source: http://kingdomhearts.wikia.com/wiki/Kingdom_Hearts_III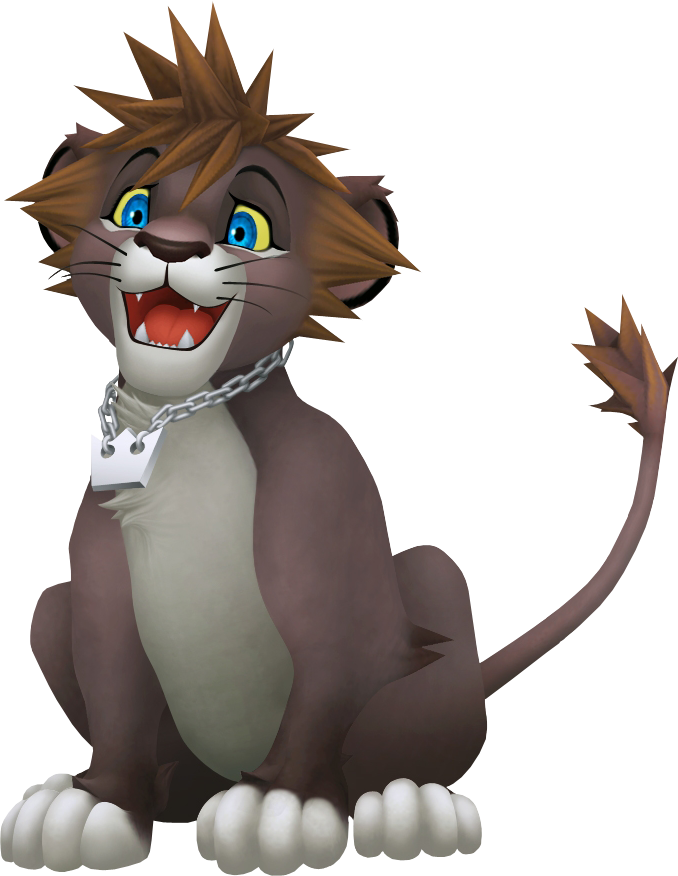 Donald, Sora and Goofy Lion King Level Transformations
Image Source: http://lionking.wikia.com/wiki/Kingdom_Hearts_II
Image Source: http://kingdomhearts.wikia.com/wiki/Pride_Lands
Image Source: http://lionking.wikia.com/wiki/Kingdom_Hearts_II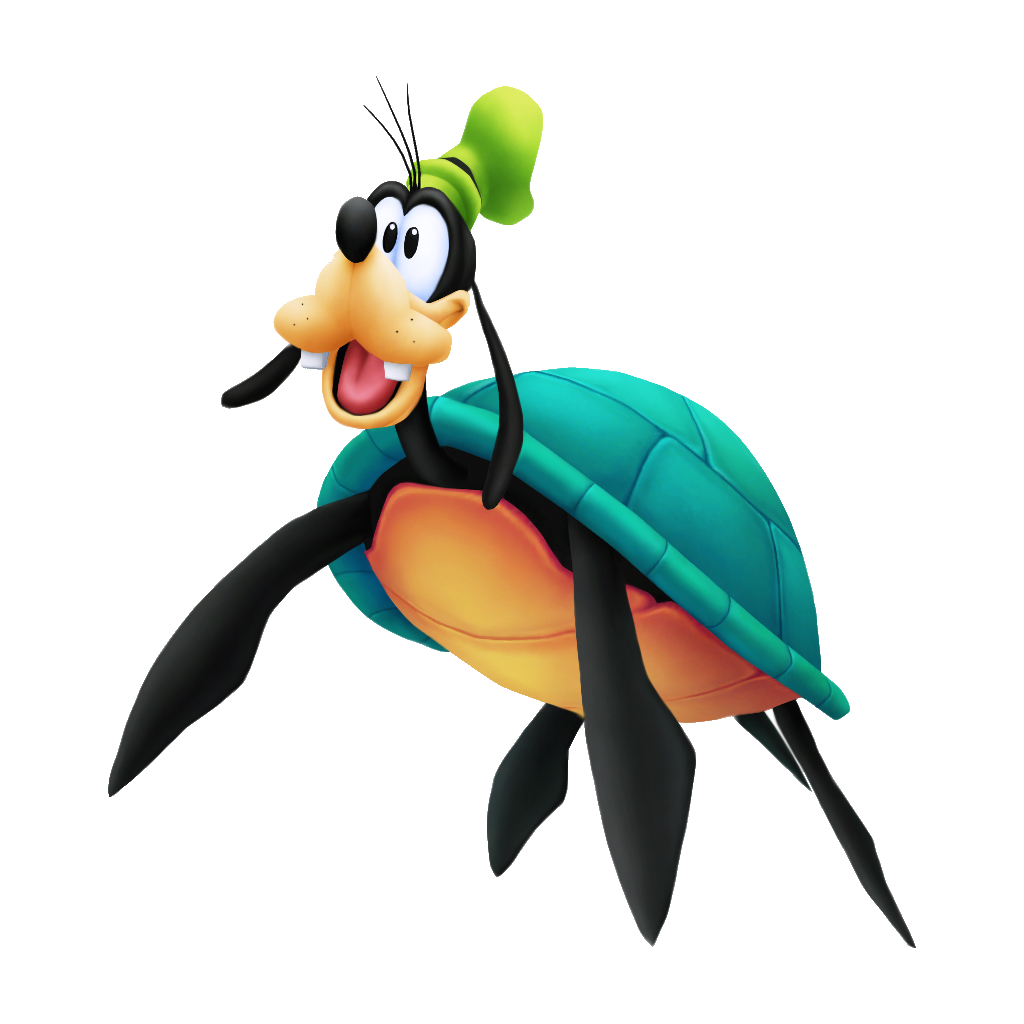 Donald, Sora and Goofy The Little Mermaid Level Transformations
Image Source: http://kingdomhearts.wikia.com/wiki/Atlantica
Image Source: http://findingresult.com/?pid=9PO98WX17&dn=visualdna.com&rpid=9PO160YOL
Image Source: http://kingdomhearts.wikia.com/wiki/Atlantica